Texas Hill Country Drapery Hardware Selection and Installation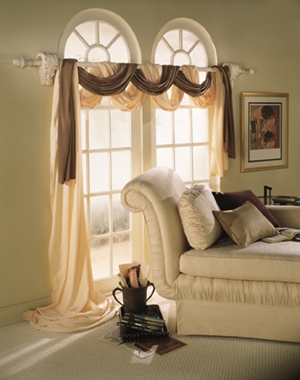 One of the most critical components of any piece of window treatment is its hardware. This is especially true for draperies. No matter how good your drapes look, they will fail to stun you and your guests if they are hung on substandard hardware. At BlindsNMotion, our drapery experts can help you select and install the most beautiful and functional drapery hardware in San Antonio.
In every project that we undertake, our window treatment designers place customer satisfaction as our highest priority. Our locally owned and operated San Antonio shutters and blinds company wants to form long lasting and mutually beneficial relationships with all of our customers. When you hire us to help you select and install window treatment hardware, our designers will work their hardest to help you achieve all your aesthetic and functional goals. Through the amazing results that we achieve, our team conveys the fact that you can always trust us with your present and future needs.
If your are looking for the highest quality and most beautiful window treatment hardware in San Antonio, call BlindsNMotion today. Our courteous and polite staff would be happy to take your call and to assist you in any way that we can. Our knowledgeable experts can answer any questions that you may have, handle any necessary measurements, and conduct the installation for you. We would be excited to schedule your appointment today.
Endless Selection of Drapery and Window Treatment Hardware
At BlindsNMotion, our company carries the widest selection of exceptionally beautiful and highly functional hardware to go with our draperies in San Antonio. There is no limit to what you can find with our assistance. Likewise, there is no aesthetic taste or functional goal that cannot be achieved. Here are just a few of the drapery hardware items that we always have in stock:
Hardware Measurement and Installation Services in San Antonio
After you have selected the optimal window treatment hardware for your project, our professionals can handle the rest for you. We can conduct the measurements in your home or business. Our professionals can then install your new hardware and draperies in the most expert manner. All you need to do is sit back and relax while your vision becomes fulfilled. You and your family are guaranteed to be satisfied with the results.
If you would like an estimate for drapery hardware in San Antonio or the surrounding areas, please call 830-214-2362 or complete our online request form.
Latest Articles