Beautiful Wood Blinds in Texas Hill Country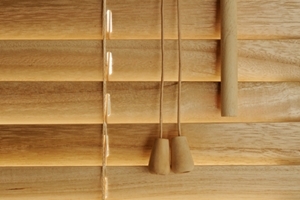 Wood blinds in San Antonio are an absolutely fantastic addition to any living space. If you have been thinking about ways in which you can dramatically improve the overall design scheme of your home, you cannot go wrong by installing wood blinds in your residence. At BlindsNMotion, our window blind installation and design experts are here to help you with the entire project from helping you select products to installing your new real wood blinds in the Texas Hill Country area. With our guidance, you will make the best possible choices. You and your family are guaranteed to be completely satisfied with the results
Our locally owned and operated San Antonio blinds company has been serving residents and businesses in the Texas Hill Country since 2000. Our highly skilled design experts are ready and eager to assist you in any way that can. In every project we undertake, our professionals work their hardest to achieve all of our customer's goals. When you hire us to install wood blinds in your property, we promise to bring this dedication to excellence to task for you.
Call BlindsNMOtion today if you need to hire a exceptionally experienced professional shutter and blind company in San Antonio. Our polite staff would be happy to take your call, to answer any of your questions, and to schedule your appointment today. We provide free estimates. Our team can assist you with the selection, measurement, and installation phases of the effort.
The Stunning Beauty of Wood Blinds
Wood blinds are by far some of the most beautiful window treatments available on the market. The natural warm colors and grains are truly unique and exceptional. These amazing window treatments come in countless colors, shapes, stains, and designs.
Our window treatment design experts can help you select from a wide range of fantastic options of real wood window blinds in San Antonio. Through our consultation services, we can guide you to selecting the best wood blinds for your aesthetic and functional goals. Our professionals would be happy and eager to assist you. You and your family are guaranteed to be completely satisfied with the results of project.
Wood Blinds are Low Maintenance and Highly Durable
When you install wood blinds in your San Antonio property, you will enjoy a window treatment that will be both highly durable and low maintenance. Our products are made by the top manufacturers who use the highest quality materials. All you need to do to keep them looking their best is to routinely dust them. As always, you and your family will be completely pleased with the amazing look of your wood blinds.
If you would like an estimate for real wood blinds in San Antonio or the surrounding areas, please call 830-214-2362 or complete our online request form.
Latest Articles
When it comes to upgrading the aesthetics and functionality of your home in San Antonio, choosing the right window treatments can make a significant difference. Among the various options available, Polycore shutters stand out as an excellent choice. In this blog, we will explore the numerous benefits of Polycore shutters for your San Antonio home, from their durability to their energy efficiency...
Read More
Exterior solar screens have gained popularity as an effective solution for controlling sunlight and heat in residential and commercial buildings. These screens are installed on the exterior of windows, providing numerous benefits that contribute to energy efficiency and enhanced comfort. In this article, we will explore the advantages of exterior solar screens...
Read More