Local Experts for Window Treatment Motorization in Texas Hill Country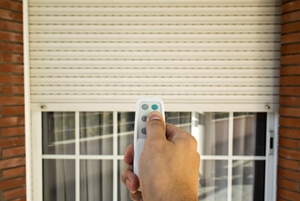 One of the most popular and rewarding services that we provide at BlindsNMotion is window treatment motorization in San Antonio. These amazing systems can completely revolutionize how you and your family use and enjoy your home. The highly skilled window treatment design and installation professionals at our San Antonio shutters and blinds company have the knowledge and experience necessary to assist you in designing the most customized motorized shades and blinds possible.
If you are interested in installing motorized window treatments in San Antonio, call BlindsNMotion today. Our professional and polite staff would be happy to take your call, to answer any questions that you may have, and to schedule your appointment today. Throughout the entire project, our team will work their hardest to achieve all of your goals. Your satisfaction will be our highest priority.
Remote Controlled Motorized Window Treatments
Remote controlled motorized window treatments are extremely versatile and functional. These amazing devices give you the ability to control the amount of light entering your living spaces in the easiest possible manner. By remote control, we mean that you will not only be able to open and close window treatments while in your home, but you will also be able to do so anywhere in the world.
In this way, you can use your window treatments in a way to enhance the energy efficiency of your property and to improve the security that your enjoy in your residence. Having the ability to block heat from entering your home during the summer gives an added boost to your comfort systems. Raising and lowering blinds and shades while away from your property gives the illusion that someone is always at home.
Motorized Window Treatments Customized to Your Needs
At BlindsNMotion, our San Antonio window treatment company has been so successful for so long for one simple reason. In every project we undertake, our professionals work their hardest to achieve the highest level of customer satisfaction possible. Our window treatment design team understands that every property and family is different. As such, we know that our services need to be customized each and every time.
When you hire us to install motorized window treatments in your Texas Hill Country home, our experts will personally inspect your property and will inquire as to your unique needs and goals. Throughout the entire project, we will constantly stay attuned to your inputs and suggestions. In this way, our professionals can ensure that we are providing you with the most customized motorized window treatments possible.
If you would like an estimate for window treatment motorization in San Antonio or the surrounding areas, please call 830-214-2362 or complete our online request form.
Latest Articles
Exterior solar screens have gained popularity as an effective solution for controlling sunlight and heat in residential and commercial buildings. These screens are installed on the exterior of windows, providing numerous benefits that contribute to energy efficiency and enhanced comfort. In this article, we will explore the advantages of exterior solar screens...
Read More
Are you knocking around the idea of getting new window coverings for your San Antonio home? How about considering draperies? After all, draperies can offer a wealth of great benefits that you'll be able to enjoy for many years to come. If you're still on the fence about getting draperies for your San Antonio home, ...
Read More