Exterior Solar Screens in Texas Hill Country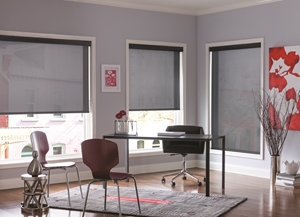 In this day and age of high energy prices, any change that we can make to our properties that reduces the amount of electricity that we use is an absolute plus. During the summer, your air conditioner uses over half of the energy that your property consumes. One way that you reduce the amount of time that your AC unit operates is by preventing heat from entering through your windows. At BlindsNMotion, our San Antonio shutters and blinds company can assist you in this regard. By installing exterior solar screens in San Antonio, we've found our client save a lot of money with the resulting energy savings.
When you hire us for your exterior solar screen project, you are making the absolute best decision for the effort. Our professionals have been serving residents and businesses in the Texas Hill Country since 2000. As such, we have the knowledge, skill, and experience necessary to help you achieve all of your window treatment related goals. Our team will work its hardest to achieve your complete and total satisfaction.
If you are interested in the many benefits of exterior solar screens, call BlindsNMotion today. Our experts would be happy to take your call and to answer any questions that you may have about our window treatments in San Antonio. Our polite and professional staff can schedule your appointment today.
Save Money with Exterior Solar Screens in San Antonio
One of the best reasons to install exterior solar screens around your San Antonio home or business is that they can help you save money. When you install these window treatments, your property will be better protected from radiant heat. Keeping your solar screens down during the summer can reduce the amount of time that your air conditioner needs to operate. In turn, you realize immediate savings on your monthly energy bills.
Exterior Solar Screens Enhance Comfort
By preventing radiant heat from entering your home, exterior solar screens enhance the comfort that you and your family enjoy within your residence. In addition, these amazing window treatments allow you to control the amount of light that enters your living spaces. During times of the day where the glare is harsh, exterior solar screens allow you to enjoy an obstructed and glare-free view.
Exterior Solar Screens Block Harmful UV Radiation
In addition to preventing radiant heat from entering your property, exterior solar screens also block harmful ultraviolet light. UV radiation can be harmful to the health of your family and loved ones, it being a cause of skin damage and cancer. Likewise, this harmful solar radiation can also cause damage to your property and furniture. These amazing devices reflect anywhere from 75% to 99% of UV light.
If you would like an estimate for exterior solar screens in San Antonio or the surrounding areas, please call 830-214-2362 or complete our online request form.
Latest Articles
When it comes to upgrading the aesthetics and functionality of your home in San Antonio, choosing the right window treatments can make a significant difference. Among the various options available, Polycore shutters stand out as an excellent choice. In this blog, we will explore the numerous benefits of Polycore shutters for your San Antonio home, from their durability to their energy efficiency...
Read More
Exterior solar screens have gained popularity as an effective solution for controlling sunlight and heat in residential and commercial buildings. These screens are installed on the exterior of windows, providing numerous benefits that contribute to energy efficiency and enhanced comfort. In this article, we will explore the advantages of exterior solar screens...
Read More