Your Local Source for Polycore Shutters in Texas Hill Country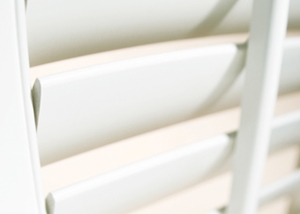 At BlindsNMotion, our San Antonio shutters company has been proudly serving Texas Hill Country residents and businesses since 2000. Our courteous and polite staff have the knowledge, skill, and experience necessary to help you select and install the most beautiful window treatments for your property. One of our most popular items are our great selection of polycore shutters in San Antonio.
Polycore shutters are amazingly beautiful and versatile. At the same time, they are highly durable, low maintenance, and long lasting. Our shutter design experts can help you select the best polycore shutters for your home or business. We will work our hardest to achieve all your aesthetic and functional goals. Our team is not pleased with the results of our efforts unless we achieve your complete and total satisfaction.
If you are interested in installing polycore shutters in San Antonio for your home or business, call BlindsNMotion today. Our courteous and polite staff is ready and eager to assist you. Our window treatment design experts would be honored to assist you in any way that we can. We can schedule your appointment today.
Polycore Shutter Selection Services in San Antonio
Polycore shutters are an amazing addition to any living space. When you enter a room, the natural lighting from your windows immediately attracts the eye. Your window treatments will define the look and feel of your home. At the same time, polycore shutters allow you to control the amount of light and privacy that you have in your rooms.
When you hire our professionals for your polycore shutter project, you are making the absolute best choice for your home or business. Our experts can provide you with a wide range of sample materials made by the top manufacturers. The design, finish, and color possibilities are nearly endless. Together, we can select a new polycore shutter window treatment that will achieve all of your aesthetic and functional needs.
Benefits of Polycore Shutters in San Antonio
Polycore shutters are a uniquely affordable window treatment option that can work in any budget. You do not have to sacrifice any beauty when making this choice. In fact, you receive a number of amazing benefits by choosing polycore shutters.
First, these window treatments are extremely durable and long-lasting. They are fade-resistant so their color should stay vibrant for the entire lifetime of the product. Polycore shutters are perfect for moisture-rich environments, because they are not prone to warping and humidity. You and your family are guaranteed to be pleased with the beauty and functionality of your new polycore shutters for years to come.
If you would like an estimate for polycore shutters in San Antonio or the surrounding areas, please call 830-214-2362 or complete our online request form.
Latest Articles
When it comes to upgrading the aesthetics and functionality of your home in San Antonio, choosing the right window treatments can make a significant difference. Among the various options available, Polycore shutters stand out as an excellent choice. In this blog, we will explore the numerous benefits of Polycore shutters for your San Antonio home, from their durability to their energy efficiency...
Read More
Exterior solar screens have gained popularity as an effective solution for controlling sunlight and heat in residential and commercial buildings. These screens are installed on the exterior of windows, providing numerous benefits that contribute to energy efficiency and enhanced comfort. In this article, we will explore the advantages of exterior solar screens...
Read More