Installing Pleated Shades in Texas Hill Country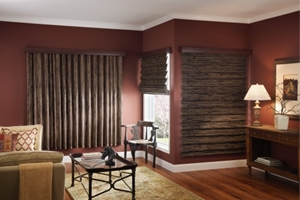 At BlindsNMotion, our professionals have the knowledge, skill, and experience necessary to help you install beautiful window treatments in your home or business. We carry the widest selection of amazingly versatile and stunning window shades in the Texas Hill Country. One of the most popular shade designs that we sell and install is our custom pleated shades in San Antonio.
Our locally owned and operated San Antonio blinds company is honored by the fact that so many local residents and businesses have trusted us over the years with their window treatment needs. When you hire us to install pleated shades in your property, we promise to work our hardest for you. Our goal, in every project we undertake, is to achieve the highest levels of customer satisfaction possible.
Call BlindsNMotion today if you need to hire a professional shutter and blind company in San Antonio. Our knowledgeable and experienced window treatment design experts are ready and eager to assist you. With our help, you will select the pleated shades that you and your family love the most. Our polite staff would be happy to take your call and would be excited to schedule your appointment today to learn more about our great selection of window shades in San Antonio.
Pleated Shades Provide Beautiful Lighting
Pleated shades are a fantastic window treatment option for any room of your home. They are made of fabric that can be drawn and lowered quickly and easily. Even when fully down, these window treatments allow a limited amount of light to enter your living space. Depending on the color and pattern of the fabric, this lighting can be as stunningly beautiful as the window treatment itself.
Pleated Shades Design Experts in San Antonio
When you hire our professionals to assist you with your pleated shades project, you are making the best possible choice for the effort. Our window treatment experts will personally inspect your property. We will inquire as to your unique aesthetic tastes and goals. With this information, our team can provide you with a wide range of samples from with you can choose. You will confidently pick the pleated shades that you and your family will love for years to come.
Repairs for Pleated Shades in San Antonio
After our professionals install your pleated shades for you, we will always be available to provide for your maintenance and repair needs. Our San Antonio company specializes in window treatment cleaning and repair services. In every task we conduct, we work our hardest to achieve all of our client's goals. You can always rest assured knowing that our team is ready to help.
If you would like an estimate for pleated shades in San Antonio or the surrounding areas, please call 830-214-2362 or complete our online request form.
Latest Articles
When it comes to upgrading the aesthetics and functionality of your home in San Antonio, choosing the right window treatments can make a significant difference. Among the various options available, Polycore shutters stand out as an excellent choice. In this blog, we will explore the numerous benefits of Polycore shutters for your San Antonio home, from their durability to their energy efficiency...
Read More
Exterior solar screens have gained popularity as an effective solution for controlling sunlight and heat in residential and commercial buildings. These screens are installed on the exterior of windows, providing numerous benefits that contribute to energy efficiency and enhanced comfort. In this article, we will explore the advantages of exterior solar screens...
Read More