Roller Screens in Texas Hill Country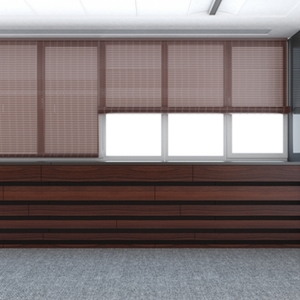 In some instances, expansive windows are just too picturesque to cover up with tradition shades, shutters, or blinds. However, this does not mean that these windows cannot benefit from an expertly designed window treatment addition. At BlindsNMotion, our San Antonio shutters and blinds company has the perfect solution for these areas of your home or business. We proudly install roller screens in San Antonio for all of our residential and commercial customers in the Texas Hill Country area.
Roller screens provide sheer beauty to any living space. When you hire our professionals for the task, we can guide you through the entire selection and installation project. You can rest assured knowing that you are making the best possible investment. Our team will work its hardest to achieve all your goals and to maximize your satisfaction.
If you are interested in installing roller screens in your San Antonio home or business, call BlindsNMotion today. Our courteous and polite staff would be happy to take your call, to answer any questions that you may have about our window treatments in San Antonio, and to schedule your appointment today. We are always ready and eager to assist a family or business in the Texas Hill Country.
Roller Screens Provide Beautiful Views
One of the greatest advantages of roller screens is that they can still provide beautiful views when fully down. Some windows are so exceptional that they should never be blocked. However, during hours of the day where glare is intense and uncomfortable, these windows can be hardly enjoyable.
By installing roller screens on these windows, you can enjoy the room and the view fully at all times during the day. These amazing devices can reduce glare and block radiant heat all while providing an unobstructed vista through your expansive windows. When you hire our professionals for the task, you are guaranteed to be pleased with the results.
Roller Screens in San Antonio Save Money & Protect Property
Depending on your unique needs, your roller screens can be customized to provide you with a number of amazing benefits. Some designs are manufactured to block radiant heat and ultraviolet radiation. By preventing heat from entering your home during the warm months, roller screens can help reduce the amount of energy that you use to cool your property. By blocking harmful UV-rays, these devices can promote the health of your loved ones and protect your residence and furniture.
When you hire our roller screen design experts, we will guide you through the entire selection process. You are guaranteed to maximize the benefits of the entire effort. As always, our team will work its hardest to achieve your complete and total satisfaction.
If you would like an estimate for roller screens in San Antonio or the surrounding areas, please call 830-214-2362 or complete our online request form.
Latest Articles
Are you knocking around the idea of getting new window coverings for your San Antonio home? How about considering draperies? After all, draperies can offer a wealth of great benefits that you'll be able to enjoy for many years to come. If you're still on the fence about getting draperies for your San Antonio home, ...
Read More
As a Spring Branch homeowner, you are faced with many options when purchasing and installing new shades. Cellular shades, or honeycomb shades, are popular because of their advanced insulating properties, and hiring a blinds company to install your cellular shades will ensure that they remain in good condition for an extended period of time. What ...
Read More