Drapery and Upholstery in Texas Hill Country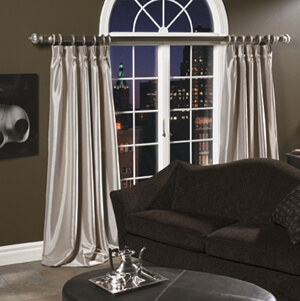 When you install draperies in your living room, dining room, or den, you make a substantial improvement to the area. If you want to make the absolute most out of the effort, you should consider creating customized and matching upholstery for the area. New pillows and furniture that matches your window treatments really ties the room together completely. At BlindsNMotion, our professionals can assist you with all this. We offer custom drapery services and can create matching upholstery in San Antonio.
For the last two decades, our highly skilled upholstery design team has proudly served local families and businesses in the Texas Hill Country. We understand how important your furniture and interior decoration scheme is to your property and your family. In every service that we provide, our team works its hardest to achieve all of our customer's goals. We will bring this dedication to high quality service to task for you during your project.
If you are looking for custom designed upholstery to match draperies in San Antonio, call BlindsNMotion today. Our courteous and polite staff would be happy to take your call and to assist you in any way that we can. Our knowledgeable experts can answer any upholstery, drapery, or fabric related question that you may have. We can schedule your appointment today.
Unlimited Options for Upholstery in San Antonio
At BlindsNMotion, our highly skilled professionals have the knowledge and experience necessary to achieve all of your upholstery related goals. Our business was founded by a person who began making custom fabric and draperies out of the garage. This expertise has always been ever-present in our San Antonio shutters and blinds company. Here are just a few of the furniture pieces that we are routinely called upon to upholster.
Upholstery Services Customized to Your Needs
Our upholstery design experts understand that each project and home is different. As such, our professionals always strive to provide our customers with the most customized services possible. If you have a vision of what you want your living spaces to look like, our team is here to make your dream become a reality.
Our upholstery design experts can provide you with an in-home consultation. With our guidance, you will be able to make the best choices for your aesthetic goals and functional needs. Throughout the entire effort, we will constantly stay attuned to your inputs. In the end, you and your family are guaranteed to be completely satisfied with the results of our upholstery efforts.
If you would like to learn more about our services related to upholstery in San Antonio, please call 830-214-2362 or complete our online request form.
Latest Articles