Interior Design with Woven Wood Shades in Texas Hill Country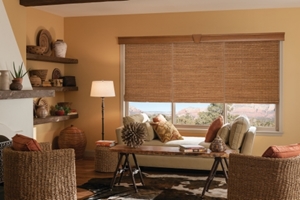 Woven wood shades are a stunning addition to any room. These beautiful window treatments are made form natural materials such as grass, reeds, bamboo, and wood. They can work well in both traditional and modern design schemes. At BlindsNMotion, our company has the widest selection of woven wood shades in San Antonio. Our professionals are here to help you select, measure, and install these amazing products in your home or business.
Since 2000, our highly skilled window treatment retailers and installers have been dedicated completely and totally to our customers. We understand how important your home or business is to you. Our San Antonio blinds team members are honored each and every time we are called for a job. We are not pleased with the results of our efforts unless we achieve all of our customer's goals. Our experts will bring this dedication to excellence to task for you during your next project.
If you are interested in installing woven wood shades in your home or business, call BlindsNMotion today. Our polite, professional, and dedicated staff would be happy to take your call, to assist you in any way that we can, and to answer all your window treatment related questions. Our experts will guide you through every phase of the effort. We can schedule your appointment today to check out our great selection of window shades in San Antonio.
Endless Woven Wood Shade Designs in San Antonio
At BlindsNMotion, our window treatment design experts are here to help you with every aspect of your woven wood shade project. We can personally inspect the room in which you are planning to install these window treatments. Our designers will inquire as to your unique aesthetic tastes and functional goals. With this information, we will be able to select many sample materials specifically customized to you.
The design possibilities are nearly endless. Together, we can find the woven wood shades that will tie every aspect of your room together. You and your family are guaranteed to be completely enamored with the window treatments that you choose. Your enjoyment of your woven wood shades will last for years to come.
Woven Wood Shade Measurement and Installation
After you select the woven wood shades that you and your family like the best, our San Antonio window treatment company will handle the rest of the effort for you. We are adept at measuring and installing theses window treatments in any area of any property. All you need to do is sit back and relax while your vision for your home or business becomes a reality.
If you would like an estimate for woven wood shades in San Antonio or the surrounding areas, please call 830-214-2362 or complete our online request form.
Latest Articles
Are you knocking around the idea of getting new window coverings for your San Antonio home? How about considering draperies? After all, draperies can offer a wealth of great benefits that you'll be able to enjoy for many years to come. If you're still on the fence about getting draperies for your San Antonio home, ...
Read More
As a Spring Branch homeowner, you are faced with many options when purchasing and installing new shades. Cellular shades, or honeycomb shades, are popular because of their advanced insulating properties, and hiring a blinds company to install your cellular shades will ensure that they remain in good condition for an extended period of time. What ...
Read More