Sliding Panels in Texas Hill Country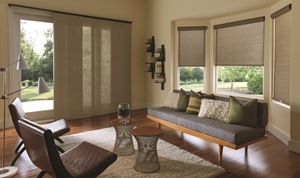 By far, one of the most popular drapery designs is the panel curtain. These flowing fabric window treatments typically hang all the way to the floor. Their elegance and beauty is truly something to behold. At BlindsNMotion, our San Antonio shutters and blinds company specializes in drapery and sliding panel selection and installation services. With our help, you will make the most remarkable changes to your home or business with elegant draperies such as our selection of sliding panels in San Antonio.
Our locally owned and operated company was started by a mother trying to put food on the table for her kids. She personally fabricated drapes and fabrics out of her garage. From these humble origins came great success. Her drapery design experience and skill is still central to our business. Bottom line, when you hire us to create and install sliding panels for your property, you are making the absolute best choice for your home or business.
If you are interested in purchasing and installing sliding panels for your San Antonio residential or commercial property, call BlindsNMotion today. Our polite and professional staff is here to assist you in any way that we can. Our knowledgeable experts are always happy to answer any drapery related questions that our customers may have. We can schedule your appointment or consultation today.
Endless Designs for Sliding Panels in San Antonio
At BlindsNMotion, our team is proud to carry the widest selection of sliding panels and draperies in San Antonio. When you choose us for your project, there is no limit to what can be accomplished. Sliding panels come in countless colors, shapes, designs, patterns, and fabrics. There truly is an option for any interior decoration scheme, functional goal, setting, and aesthetic taste. Our designers are always ready to help you with the selection process.
Sliding Panel Services Customized to Your Needs
Every homeowner has a different vision for what they want their living spaces to look like. At BlindsNMotion, our window treatment and drapery design experts are here to ensure that your vision becomes a reality. To this end, we always strive to provide each of our customers with the most customized services possible.
Our team of sliding panel experts would be happy to hold an in-home consultation with you. We will inquire as to your unique goals and assess the current layout and design of your rooms. With this information, we can provide you with many sample materials for your sliding panels. In the end, you can feel confident knowing that you made the best possible choice for your draperies.
If you would like an estimate for sliding panels in San Antonio or the surrounding areas, please call 830-214-2362 or complete our online request form.
Latest Articles
Exterior solar screens have gained popularity as an effective solution for controlling sunlight and heat in residential and commercial buildings. These screens are installed on the exterior of windows, providing numerous benefits that contribute to energy efficiency and enhanced comfort. In this article, we will explore the advantages of exterior solar screens...
Read More
Are you knocking around the idea of getting new window coverings for your San Antonio home? How about considering draperies? After all, draperies can offer a wealth of great benefits that you'll be able to enjoy for many years to come. If you're still on the fence about getting draperies for your San Antonio home, ...
Read More