Wide Selection of Roman Shades in Texas Hill Country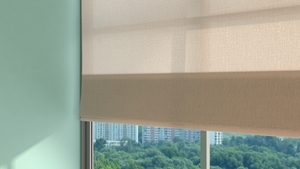 At BlindsNMotion, our company is here to help you choose and install beautiful window treatments in your Texas Hill Country home or business. We carry the widest selection of amazing window treatments. One of the most popular product lines that we have is Roman shades in San Antonio. These fantastic options combine the benefits of shades and draperies; they are stunningly elegant.
Since 2000, our San Antonio blinds and shutters professionals have been dedicated to providing the highest quality window treatment consultations and services to all of our customers. We understand how important your home or business is to your family. Our team is honored by the fact that so many property owners have trusted us over the years. When you hire us to install Roman shades in your residence or business, we will work our hardest to achieve all of your goals.
Call BlindsNMotion today if you are interested in installing Roman shades or any other window treatments in your property. Our polite and dedicated staff would be happy to take your call and to answer any questions that you may have. We can schedule your appointment today to learn more about our window shades in San Antonio.
Roman Shades Are Beautiful and Versatile
Roman shades are gaining in popularity because they combine the classic beauty of draperies and the functionality of blinds. These stunning window treatments come in a wide range of shapes, colors, fabrics, and designs. They are the perfect window treatment for unique areas of your residence, especially for adorning bay and bow windows.
These flowing window treatments can be controlled easily, allowing you to allow the precise amount of light that you want in your living spaces. You and your family are guaranteed to be pleased with how your Roman shades transform every room of your residence. You will be even more satisfied with their ease of use and functionality.
Selection, Measurement, and Installation Services for Roman Shades in San Antonio
When you hire our professionals to assist you with your window treatment project, you are making the best choice for the job. We can provide you with a wide selection of beautiful Roman shades. With our guidance, you will select the new adornments that truly offset and complement the beauty of your interior decoration scheme.
After you select the optimal Roman shades for your Texas Hill Country property, our professionals will handle the rest. We can conduct the measurement and installation for you. All you need to do is sit back and relax while your vision for your home or business becomes a reality.
If you would like an estimate for roman shades in San Antonio or the surrounding areas, please call 830-214-2362 or complete our online request form.
Latest Articles
Exterior solar screens have gained popularity as an effective solution for controlling sunlight and heat in residential and commercial buildings. These screens are installed on the exterior of windows, providing numerous benefits that contribute to energy efficiency and enhanced comfort. In this article, we will explore the advantages of exterior solar screens...
Read More
Are you knocking around the idea of getting new window coverings for your San Antonio home? How about considering draperies? After all, draperies can offer a wealth of great benefits that you'll be able to enjoy for many years to come. If you're still on the fence about getting draperies for your San Antonio home, ...
Read More