Quality Roller Shades in Texas Hill Country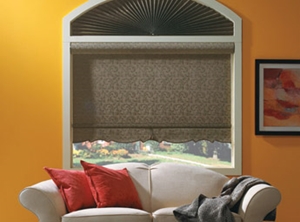 Our roller shades in San Antonio are an elegant and beautiful addition to any living space. They look great in both modern interior design schemes and in more traditional settings. At BlindsNMotion, our window blinds and shutters company has a wide selection of roller shades from which you can choose. With our help, you will select the most beautiful and functional window treatments for your property.
Residents and businesses in the Texas Hill Country have been trusting our San Antonio blinds company with all their window treatment selection, measurement, and installation needs for the last two decades. Our professionals have been so successful for so long for one simple reason. In every service that we provide, our team works its hardest to achieve all of our customer's goals. We will bring this dedication to excellence to task for you.
If you are interested in installing roller shades in your San Antonio home or business, call BlindsNMotion today. Our polite and professional staff is ready and eager to assist you. Our window treatment experts can answer any questions that you may have about our services and selection of shades in San Antonio. We can schedule your appointment today.
Wide Selection of Roller Shades in San Antonio
When you decide to install roller shades in your San Antonio home or business, there are a number of design possibilities available to you. First, roller shades come in different opacity levels. In other words, some allow a little bit of light to pass through them, whereas, other roller shades can completely block all light.
Second, the materials that these shades come in are nearly endless. You will be able to choose for an unlimited number of designs, colors, and pattern. Our window treatment design experts can help you select the perfect roller shades for you and your family's aesthetic tastes and the decoration of your living spaces. You and your family will absolute love the results.
Roller Shades Are Highly Functional
One of the best advantages of roller shades is that they are highly functional window treatments. These products can provide complete privacy in your home or business when fully down. They can also roll up all the way, allowing the maximum amount of natural light into your property. They are designed to be easy and fun to use.
As such, roller shades are the perfect window treatment for any room with a large expanse of windows. With the help of our experts, you will make the absolute most out of the effort. We can handle the measurement and installation aspects of the project for you.
If you would like an estimate for roller shades in San Antonio or the surrounding areas, please call 830-214-2362 or complete our online request form.
Latest Articles
Are you knocking around the idea of getting new window coverings for your San Antonio home? How about considering draperies? After all, draperies can offer a wealth of great benefits that you'll be able to enjoy for many years to come. If you're still on the fence about getting draperies for your San Antonio home, ...
Read More
As a Spring Branch homeowner, you are faced with many options when purchasing and installing new shades. Cellular shades, or honeycomb shades, are popular because of their advanced insulating properties, and hiring a blinds company to install your cellular shades will ensure that they remain in good condition for an extended period of time. What ...
Read More