Why You Should Consider Installing Cellular Shades in Your Home
---
---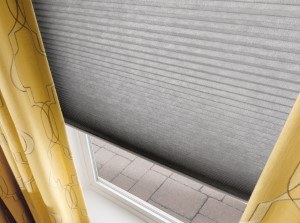 As a Spring Branch homeowner, you are faced with many options when purchasing and installing new shades. Cellular shades, or honeycomb shades, are popular because of their advanced insulating properties, and hiring a blinds company to install your cellular shades will ensure that they remain in good condition for an extended period of time.
What Are Cellular Shades?
Cellular shades are window coverings composed of multiple layers of pleated fabric that form internal chambers between the layers that resemble honeycombs. Blinds companies measure the energy efficiency of shades by determining their thermal resistance, or R-value. The honeycomb compartments trap air at the window so that the room remains insulated from cold wind and warm sunlight. A high R-value indicates high energy efficiency, and the R-value depends on the material composition of the shades. The R-value of these shades can be an impressive 7.0 when the shades are installed accurately by a reputable blinds company in Spring Branch.
Advantages of Cellular Shades
In addition to their increased energy efficiency, honeycomb shades have light-blocking and noise-absorbing abilities. They can be purchased in various colors and pleat sizes, so they can be customized to suit your home. Cordless options are also available for parents and pet owners who are concerned about the hazard that cellular shades with a cord could pose. Top Down Bottom Up cellular shades offer a greater amount of privacy because the bottom can be raised and the top can be lowered as you see fit. Cellular shades are mounted like standard shades, so installation is simple, and the shades tend to be affordable.
The ability of shades to insulate your home varies depending on the cell shapes and fabrics. Point bond fabric is not very insulating, but D-shaped cells and double cell shades are very insulating. If you have questions regarding the qualities of cellular shades, contact a trusted blinds company like BlindsNMotion.
If you would like an estimate for honeycomb or cellular shades in San Antonio or the surrounding areas, please call 830-214-2362 or complete our online request form.